Community
February 12th 2019 by Dee Loflin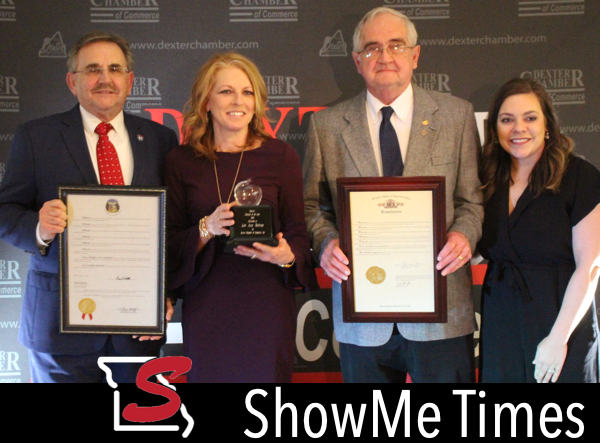 Dexter, Missouri - On Saturday, February 10, 2019 the Dexter Chamber of Commerce held their annual awards banquet at the Elks Lodge.
Kevin Bishop, Chamber Director, announced the Educator of the Year.
LeeAnn Nelson was named 2019 Educator of the Year. She has taught in the Dexter School System for 22 years and has been admired by so many not only for her dedication to her students, but how she has mentored new teachers and even college students pursuing their teaching careers.
LeeAnn comes in early and stays late and if a student needs extra help they will ge that help from her. The journals students have written in her classroom hold so many memories of how wonderful of a teacher she has been and now are forever cherished, those said students are now adults in the community and have had the privilege of sharing their children with her as well. Parents have been overjoyed to share their children in the classroom with her. She is a great communicator.
One of her second grade students has said, "She is kind and sweet. She is also funny and she truly cares about us and keeps us safe. I love that she rewards us when we are good."
Mrs. Nelson has a way of caring and fostering relationships with her students. She always finds a way of seeing the potential in each and every student. Co-workers are so happy that they get to use her knowledge that has been passed on to them so her wonderful teaching legacy will live on even after she retires.
She has had so much support from her husband, Scott and two daughters over the years.
"You have made a positive impact on your students and have been such a great asset at Southwest Elementary School and for that you should be so proud to be this year's Educator of the Year!"
Pictured from left are: Senator Doug Libla, LeeAnn Nelson, State Representative Herman Morse and Dexter Chamber Executive Director Korie Fish.

Last Updated on February 12th 2019 by Dee Loflin
https://showmetimes.com/Blogpost/vc4f/2019-Dexter-Chamber-of-Commerce-Educator-of-the-Year