Community
November 20th 2018 by Dee Loflin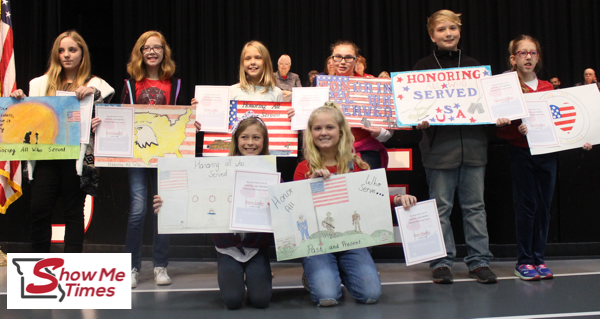 Dexter, Missouri - Fifth grade students at Central Elementary created posters i honor of veterans for Veteran's Day. Several students were chosen winner of the 2018 contest.
Winners are front row from left to right: Kalaire Essner from Mrs. Tanksley's class and Blair Medley from Mrs. Miller's Class.
Back row from left to right: Brandi Curran from Mrs. Lovins' class, Emmelia Cliff from Mrs. Pixley's class, Kelby Terry from ms. Lintz's class, Madelyn Boyt from Mr. Scott's class, Dawson Battles from Mrs. Lummukka's class and Lucy Thornton from Mrs. Allen's class.
Last Updated on November 20th 2018 by Dee Loflin
https://showmetimes.com/Blogpost/vbkh/Winners-of-the-5th-Grade-Veterans-Day-Poster-Contest