Community
November 06th 2018 by Dee Loflin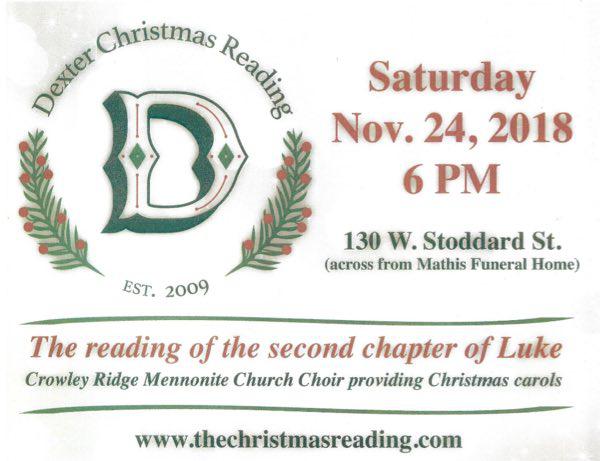 Dexter, Missouri - The 10th Annual Christmas Reading is slated for Saturday, November 24th beginning at 6:00 p.m. at 130 W. Stoddard Street across from Rainey-Mathis Funeral Home in Dexter.
Greg Mathis began the annual Christmas Reading by reading the Second Chapter of Luke in 2009 and has now become a wonderful tradition.
June Coffey, Lisa's mother and Greg's mother-in-law read the Christmas story from Luke 2 every Christmas Eve to their two boys when they were young. It was a tradition Greg decided to share with others through the Christmas reading. Mrs. Coffey passed away in 2015.
"Too often we tend to get caught up in the rush of the holiday season," Mathis said. "It is simply a reading by a special person in the local community who tells aloud the true story of the first Christmas."
The event is outside and everyone is encouraged to attend. A special guest will read the story of the first Christmas, but you have to attend to find out who the secret guest will be this year.
In case of inclement weather the event will be moved indoors to the chapel at Rainey Mathis Funeral Home.
Last Updated on November 06th 2018 by Dee Loflin
https://showmetimes.com/Blogpost/vbi0/10th-Annual-Christmas-Reading-Date-Set