ShowMe Weather
December 01st 2014 by Dee Loflin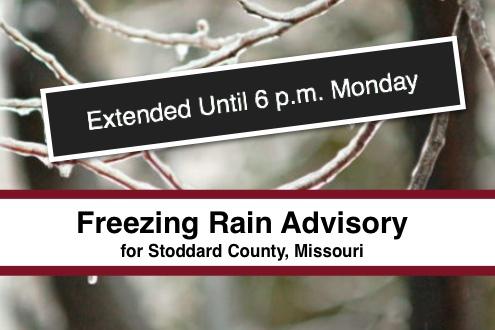 Stoddard County, Missouri -
The National Weather Service in Paducah, Kentucky has extended the Freezing Rain Advisory until 6 p.m. for Stoddard County, Missouri.
... FREEZING RAIN ADVISORY NOW IN EFFECT UNTIL 6 PM CST THIS EVENING...
THE FREEZING RAIN ADVISORY IS NOW IN EFFECT UNTIL 6 PM CST THIS EVENING.
* TODAY... LIGHT FREEZING RAIN IS EXPECTED TO DEVELOP... POSSIBLY CAUSING TRAVEL ISSUES MAINLY ON ELEVATED SURFACES SUCH AS BRIDGES AND OVERPASSES. ISOLATED POCKETS OF SLEET MAY MIX IN WITH THE FREEZING RAIN AT TIMES... BUT ANY SLEET THAT DOES FALL SHOULD BE BRIEF AND OFFER LITTLE ADDITIONAL HAZARD.
* RAIN WILL CHANGE OVER TO FREEZING RAIN EARLY AND CONTINUE THROUGH MUCH OF THE MORNING. THE FREEZING RAIN MAY AT TIMES MIX WITH SLEET.
* ICE ACCUMULATIONS IN MOST AREAS SHOULD BE LIGHT. ISOLATED AMOUNTS OF A TENTH OF AN INCH OR MORE ARE POSSIBLE THOUGH.
* TRAVELERS ACROSS THE ADVISORY TODAY SHOULD DO SO WITH EXTREME CAUTION... ESPECIALLY WHEN CROSSING BRIDGES AND OVERPASSES.
PRECAUTIONARY/PREPAREDNESS ACTIONS...
A FREEZING RAIN ADVISORY MEANS THAT LESS THAN ONE QUARTER INCH OF FREEZING RAIN OR FREEZING DRIZZLE WILL CAUSE HAZARDOUS TRAVEL CONDITIONS. BE PREPARED FOR SLIPPERY ROADS. SLOW DOWN AND USE CAUTION WHILE DRIVING.
&&
More Information
... FREEZING RAIN EXPECTED TODAY...
.RAIN WILL CHANGE TO FREEZING RAIN TODAY AS TEMPERATURES FALL BELOW FREEZING. THE FREEZING RAIN WILL BE FALLING ON WARM GROUND AND AMOUNTS WILL BE LIGHT... BUT IT STILL MAY POSE A HAZARD FOR AREA TRAVELERS... ESPECIALLY ON ELEVATED SURFACES AND ROADWAYS LIKE BRIDGES AND OVERPASSES. THE FREEZING RAIN MAY BRIEFLY MIX WITH SLEET AT TIMES.
Last Updated on December 01st 2014 by Dee Loflin
https://showmetimes.com/Blogpost/ut6k/Freezing-Rain-Advisory-Extended-Until-6-pm