ShowMe Weather
September 05th 2014 by Dee Loflin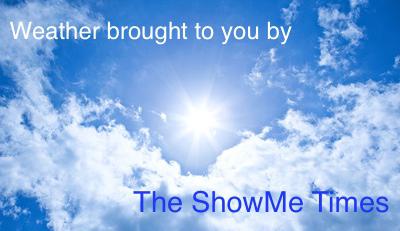 Friday, September 5, 2014

Weather brought to you by the hottest ticket in town, the SHOWME TIMES!!
It's 91F out there right now, but it feels like 101F. This afternoon the temps will reach the mid 90s; however it's going to feel HOT! UV Index is very high at 8/10.
A stray shower or thunderstorm is possible, chance of rain only 20%. Winds SSW at 5 to 10 mph.
Sunset 7:23 p.m. Tonight partly cloudy skies with late night showers or thunderstorms are possible. Low 73F. Winds light and variable. Chance of rain 40%.
Is anyone ready for some cooler weather? It's coming your way and very soon. Saturday temps will reach 79F with a chance of isolated thunderstorms. Sunday the high is expected to hit 80F and the evening temperatures will drop into the 50s.
Maybe Summer is behind us and we can have some real football weather!!!
Last Updated on September 05th 2014 by Dee Loflin
https://showmetimes.com/Blogpost/usl0/Weather-for-Friday-September-5-2014-and-Weekend-Forecast