ShowMe Weather
April 01st 2014 by Dee Loflin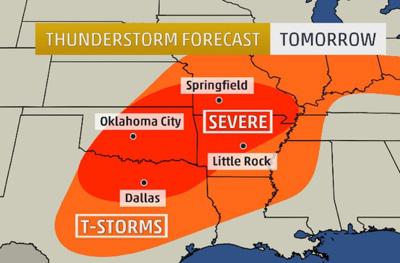 Submitted by
Dee Loflin, SMT Manager/Editor


Stoddard County, Missouri -
The National Weather Service in Paducah, Kentucky has issued a Weather Statement for Stoddard County, Missouri.
.. SEVERE THUNDERSTORMS POSSIBLE LATER THIS WEEK...
SCATTERED TO NUMEROUS THUNDERSTORMS WILL BE POSSIBLE WEDNESDAY INTO EARLY THURSDAY... ALONG AND NORTH OF A STATIONARY FRONT DRAPED ACROSS THE REGION. SOME OF THESE STORMS MAY REACH SEVERE LEVELS... ESPECIALLY LATER WEDNESDAY NIGHT INTO EARLY THURSDAY. LARGE HAIL AND HEAVY RAIN SEEM TO BE THE MAIN THUNDERSTORM RISKS AT THIS TIME.
IN ADDITION... CONFIDENCE CONTINUES TO GROWN FOR SEVERE THUNDERSTORM DEVELOPMENT LATER THURSDAY AND ESPECIALLY THURSDAY NIGHT... AHEAD OF AN EASTWARD PROGRESSING COLD FRONT. THE DYNAMICS AND INSTABILITY OF THIS SYSTEM APPEAR AT A MAGNITUDE CAPABLE OF PRODUCING WIDESPREAD SEVERE WEATHER.
HEAVY RAINFALL IS ALSO A POSSIBILITY WEDNESDAY NIGHT THROUGH THURSDAY NIGHT. THIS COULD CAUSE FLOODING AND FLASH FLOODING... PARTICULARLY THURSDAY NIGHT... IF HEAVY RAIN OCCURS WITH AN EXPECTED ROUND OF THUNDERSTORMS WEDNESDAY NIGHT INTO EARLY THURSDAY.
PLEASE STAY TUNED AND KEEP ABREAST OF FORECASTS AS WE HEAD INTO THE MID WEEK TIME FRAME.
Last Updated on April 01st 2014 by Dee Loflin
https://showmetimes.com/Blogpost/uqqf/Possibility-of-Severe-Weather