Community
October 08th 2013 by Dee Loflin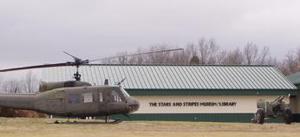 Submitted by Jill Temples
SMT Writer
Bloomfield, Missouri- The Stars & Stripes Museum and Library Highway 25 in Bloomfield, will be hosting their 5th Annual Car Show Saturday, October 12th.
The entry fee will be $15.00. Entry and set-up will begin at 8:00 a.m. and end at 12:00p.m. Awards will be presented at 3:00 p.m. Spectators will be admitted for free.
There will also be a 50/50 drawing, music and concession stand. All money goes toward keeping the museum and library doors open. Everyone is welcome! *In case of rain the car show will be held October 13th.
***The Annual Crowley's Ridge Blackpowder Club Rendezvous will also be set up across the road on Highway 25 from 9:00 a.m.- 3:00 p.m. both Saturday and Sunday!
Last Updated on October 08th 2013 by Dee Loflin
https://showmetimes.com/Blogpost/upqn/Stars-and-Stripes-5th-Annual-Car-Show