Last updated on December 08th 2013 08:31 pm
Features
July 07th 2012 08:23 pm by Staff Writer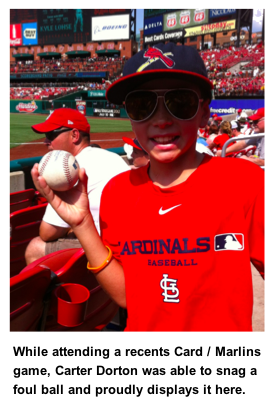 Summer trips are fun. These fun times only get better when memories are made between a father and son.
Brett Dorton wrapped up the celebration of his 40th birthday and took off with his entire family to St. Louis for a weekend of the Cardinals, the Muny and Six Flags.
The memories were accentuated by the record setting 106 degree temperatures at Busch Stadium.
"It was hot," noted Dorton. "But we got a little cloud cover later in the game and made it a lot better.'
The thrill of a lifetime for Brett's son, Carter occurred when a foul ball came his way at Busch Stadium. According to Brett, it wasn't the big story of snagging a high fly foul ball while hanging over the banister.
Carter certainly would have made the play with his strong athletic skills. However this situation called for movie star eyes and a great smile.
"There just isn't a great story to it", added Dorton.
When the baseball jumped off the bat of
St. Louis Cardinals starting pitcher Kyle Lohse, it traveled down the 1st Base Line to the wall where the attendent picked it up and searched for a cute young man who getting a Cardinal baseball would mean the world to.We think they choose well.

Not only did he come out with a prize baseball from the game, Carter was caught on the television for everyone to see. Perfect for grandparents watching the game.
Last Updated on July 07th 2012 09:35 pm by Staff Writer